Welcome to the February 2013 Simplicity Parenting Carnival: Finances
This post was written as part of the monthly Simplicity Parenting Carnival hosted by The Lone Home Ranger and S.A.H.M. i AM. This month we are discussing how we balance finances, family, and simplicity. Be sure to read to the end to see a list of the rest of the excellent carnival contributors.
***
Ok. I'm not always a cheapskate, but I do always try to go the cheaper route. Mostly, out of necessity, but also out of the Biblical conviction that our treasures are not to be stored here but in Heaven. Why waste money/time/resources on something frivolous when you could use it to bless someone else? Don't get me wrong. My husband and I budget and spend the money we have when and where it NEEDS to be spent. But, if I can make do, barter, make it, or find it cheaper somewhere else- I'm going that route for sure!!!! There are very few areas that we splurge.
I actually hate finances. I hate having to think about budgeting. It is for sure the worst part about being a grown up. But, this is where I am at the moment and I DO have to think about it and make wise choices. I try to keep it simple by not dragging out the budgeting process and by making lists. I love lists! I have a list of what I want, what we will need in the near future (think shoes for growing girls, bigger car seats, etc) and then what I will need to get the next time I go grocery shopping (groceries and small 'somethings' that fit within my household/grocery budget). So far it is working for me.
We have also found that since we have ditched the cable TV our 'Want list' has shrunk. We really don't desire many
things
. We think more in terms of places we want to take the girls and practical items that would make our home run smoother or stop future spending in a certain area (new vacuum, canning items, etc). The list is always changing and evolving, but it is just a list that we can scratch out something that we realize later isn't a true need.
Then, there are groceries...... *shaking head* our grocery budget is anything but simple. Every. Single. Month. We discuss how much we are spending and how we can lower it. I pour over recipes and ingredient lists to find new, better dishes that we can all eat and enjoy and not just choke down. I loathe meal planning and grocery shopping. If I could farm out one job within my home it would absolutely be meals/cooking/grocery shopping. Our restrictions are
killing me
getting easier for me to navigate, but my girls are eating me out of house and home! So while recipe options are slightly improving, quantity is shooting through the roof! *sigh* I do plan our meals on a monthly basis now (it seems to be working) with grocery shop every two weeks. So far this ensures we stay on course with the meal plan and keeps fresh veggies and fruits in the house at all times (which constitutes most of our snacks and side dishes). It seems to be the simplest way for us.
Of course, we dream of the day that our finances will be even simpler because we will be living off of our own land. *dreaming* Land, animals, a large garden providing ALL of our food, a cellar filled with home canned goods that last us all year...... Then I wake up and realize I need to pay the electricity bill and run to pick up some bananas. *sigh* We do pray that at least part of that dream will be a reality one day. But, we do so knowing that not everything will come from our land and bills will still need to be paid. So, our budgeting meeting happens again and we discuss places to cut down spending in our current home and budget..........
How do you keep your finances simple? Do you barter/make do/make your own to shave your budget down? If you have any ideas or meal plans you want to share that my family could eat (No gluten, dairy, corn, additives, colors, preservatives), PLEASE send them to me! *smile* I'm always open to suggestions!
***
Thanks for reading the Simplicity Parenting Blog Carnival! We hope you'll take time to read these other great contributors' posts (Note: Links will all be live by 3pm ET on February 26th):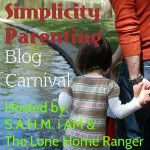 Thanks to all the fabulous writers and readers for being a part of our simplicity parenting community! Stop by
The Lone Home Ranger
and
S.A.H.M. i AM
to see how to join us for a future carnival.